GROUP ACTIVITIES & TEAM BUILDING IN PRESCOTT, AZ
No matter how big (or small) your team is, we have some of the most fun and unique team building experiences to be found! Our team building activities focus on solving puzzles in a variety of ways – pick the team bonding activity best suited to your group!
Puzzle Relays for 12-50 people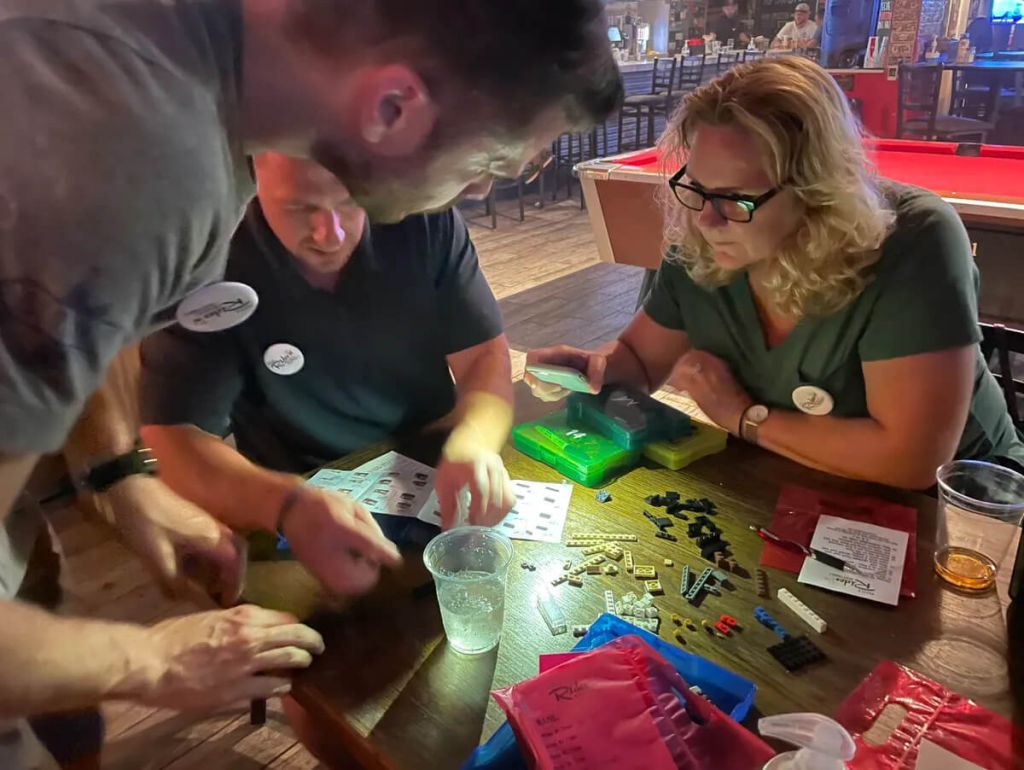 Based on our very popular pub crawl puzzles, we meet at a local bar/restaurant for a tournament of champions! Your group is split into teams of 5 or less; each team must solve a group of puzzles as quickly as possible, some which also involve leaving the location via golf cart with our Puzzlemaster drivers at the helm. Team times are recorded as puzzles are completed – but we mix up the teams every round!
At the end of the final round, one team will win overall, and the top three teams are honored. Participants will add up their individual total time – and the top three individuals are also presented with awards (because they brought their best to every team!) When all is said and done, you have the option of our Puzzlemasters (who are former sales trainers) sit down with company stakeholders and share our analysis of your team with you.
We can bring the Puzzle Relay to you! Our no-cart option finds teams competing for clues instead of riding for clues, and can be done at your location.
Difficulty Level: Moderate

Activity Level: Leisure/Active

Time: 2.5 hours

Call for pricing & details
Advanced notice is required to book any Puzzle Relay. Please note that food/beverages/gratuity are NOT included in the price and only one form of payment for the tab is allowed at the event.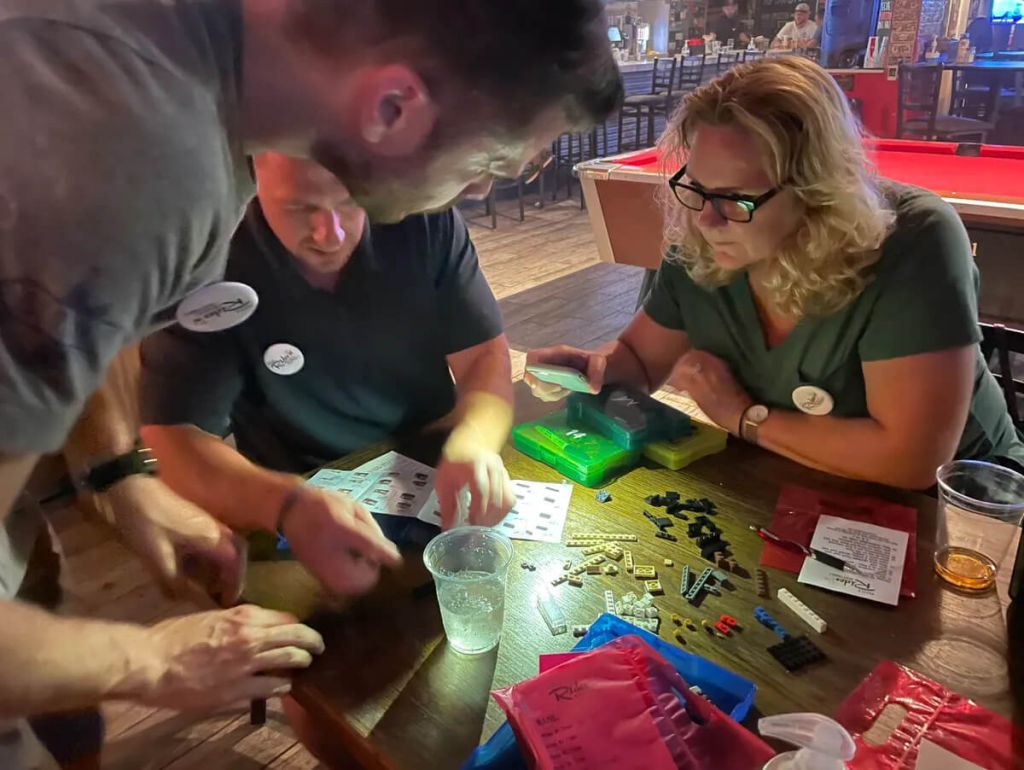 Puzzle Routes for 6-30 People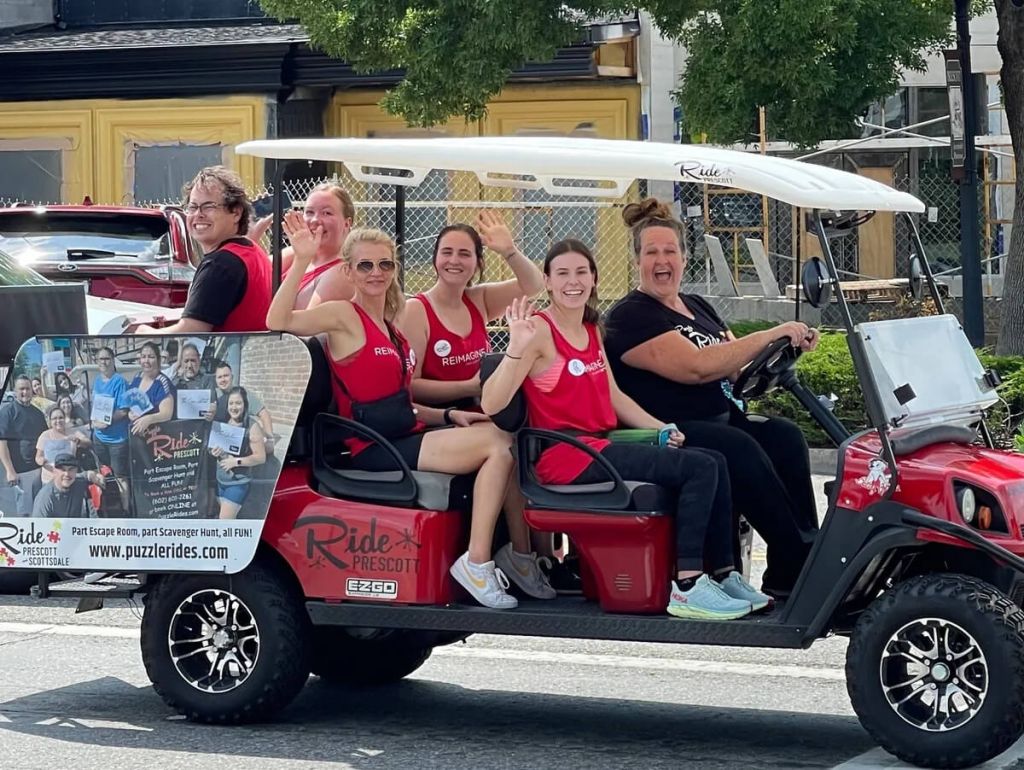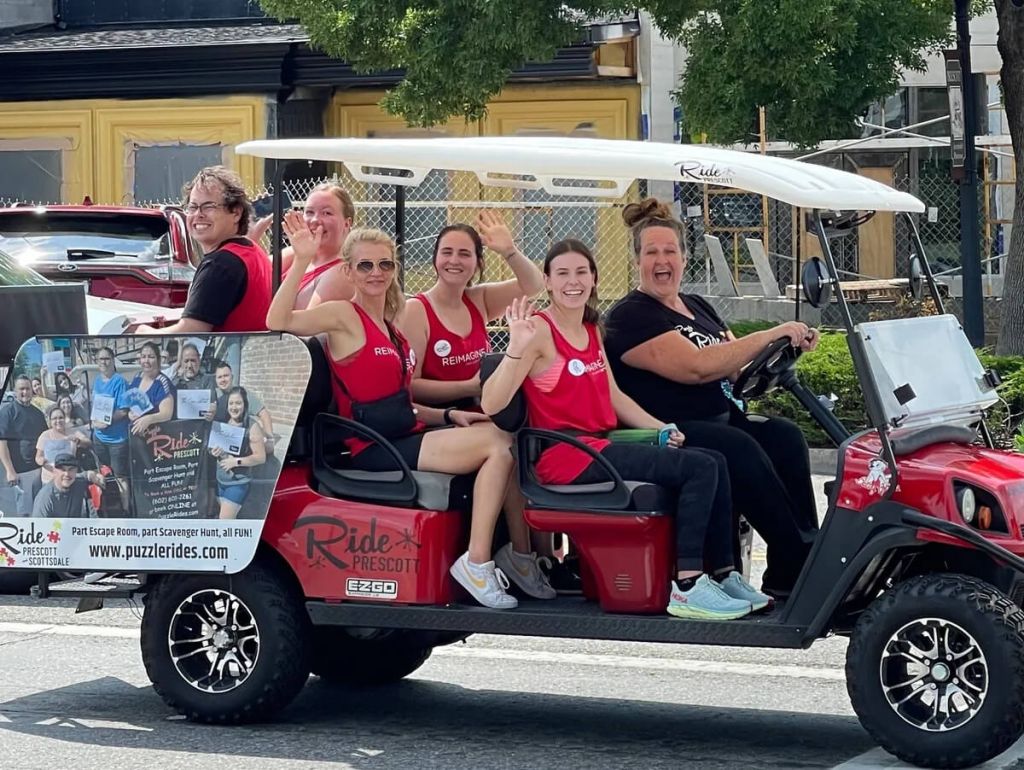 This part ride/part walk takes you on two separate routes through Prescott, AZ- with golf cart excursions to places along the way! We'll ask that you split your group into teams of 5 for the chance to become Master Puzzlemasters as you race to be the first team to win! Ideal for larger active groups that want to have fun team building in Prescott, AZ; this event takes under 2 hours.
All participants should have good mobility, as they will walk between approximately one mile.
Difficulty Level: Moderate

Activity Level: Active

Time: 90 minutes

Call for Pricing & Details
Advanced notice of two weeks is required to book.
Want the ULTIMATE team building activity? Combine a ROUTE with a RELAY!
This four hour afternoon event begins as a route and segues into a relay – with spectacular results! We mix your teams along the way for the ultimate in fun and puzzling. Available ONLY in Prescott, AZ, this half day event will be talked about for years to come! Call us for pricing & details.
PUZZLING PUB CRAWLS FOR 2-10
Ready for fun? Take your team on a Puzzling Pub Crawl and experience the most unique team building in Prescott, AZ! We visit four local bars, with 25 minute stops where you have to "think to drink!" by figuring out the "drink of the bar" by solving our puzzles. Our Pub Crawls are all "choose your own adventure" style – you'll pick your route based on your preferences in music, the holidays and more!
Difficulty Level: Easy

Activity Level: Leisure

Time: 2.5 hours

Call for Pricing & Details
Double Puzzle Rides for 2-10 People
Choose any of our regular puzzle rides…we can turn it into a tournament of champions making it the perfect team building activity in Prescott, AZ for you and your teammates! In the first round, we divide teams evenly among our carts to all compete in the same puzzles.
In the second round, we can mix things up – the top two teams from the prior round can go head to head to determine the "best" Puzzlemasters OR everyone can have a second round of Puzzle Rides with a different theme. The choices are up to you!
Difficulty Level: Easy/Moderate/Hard (depending on themes picked!)

Activity Level: Leisure/Active

Time: 3 hours

Call for Pricing & Details
PLEASE bring a bottle of water with you!!! We will work with you to stay in the shade, but reserve the right to postpone your ride if it is over 110° at the time of your ride. Bookings are only offered at 8am, 9am, 10am, 11am, plus 7pm, 8pm and 9pm are offered for all rides May 31st – Sep 5th to avoid the heat!
If you would like to purchase Enhanced Refund Protection for an additional cost at check out, please read all of our terms and conditions BEFORE purchasing HERE.