We love our local bars and can't wait to share them with you!
Our cool rock 'n roll theme, adults-only Puzzle Ride Pub Crawl will whisk you from bar to bar… where you have to think so you can drink! Want more to solve? Try our Murder Mystery! Your Puzzlemaster will be your DD and tour guide on these puzzling rides!
All rides are private (just your group) and we meet you at a designated Old Town spot.
Visiting? Arrange for us to pick you up at your hotel!
NEW!! PUBS & PUZZLES PUB CRAWL
Based on our popular corporate Puzzle Relays, these 20 puzzles test your physical and mental puzzle solving skills! Designed specifically for larger groups, we divide you into teams of 1 – 5 people. We visit four bars, where you'll compete for points – and the team with the most points wins a prize at the end! Drinks are purchased separately, must be 21 years old to participate.
Locations: Scottsdale & Prescott

Difficulty level: Moderate

Time: 120 minutes

4-25 people
Click here to see availability and pricing
OUR ROCK 'N ROLL INSPIRED PUZZLE PUB CRAWL
What's better than an ice cold beer (and maybe some booze) with some great Rock N Roll? An ice cold beer, great rock and bar hopping to four bars on a golf cart while solving puzzles! This is a Classic Puzzle Pub Crawl – we bring a mix of puzzles based on amazing Classic Rock music. Drinks are purchased separately, must be 21 years old to participate.
Locations: Scottsdale & Prescott

Difficulty Level: Moderate

Time: 120 minutes

2-15 people
Click here to see availability and pricing
OUR MURDER MYSTERY PUB CRAWL
Avery Stone was murdered while in-flight; can you figure out who did it? You'll visit three bars, and after getting settled in at each with your drinks (purchased separately, you must be 21 years old to participate) you'll have 40 minutes at each location to try and figure out who done it!
Locations: Scottsdale & Prescott

Difficulty level: Moderate

Time: 120 minutes

2-5 people
Click here to see availability and pricing
A SOPHISTICATED AND FUN PUB CRAWL
THREE OR FOUR BARS, SIXTEEN POSSIBLE LOCATIONS
You'll spend 30-40 minutes at each location, enjoying drinks and solving puzzles-whether a mix of our Classic Puzzles OR one of our new mysteries! Enjoy leisurely drinks, great music and the puzzles you've come to love in this hosted experience! Regardless of whether you solve the puzzles or not, you'll still move on to the next bar! *Drinks are not included and must be purchased separately, & must be 21 years old to participate.
WHAT TYPES OF PUZZLES ON A "CLASSIC PUZZLE PUB CRAWL?"
Crosswords, Word Finds, Ciphers, "Do As You're Told" Word Drops, Riddles and more….we typically do this at our first bar when your thinking is still clear!
"Charades" is what we call it, but everyone calls it fun! This is our most popular game in which you must identify what a picture is.
Wire linked puzzles, tangrams, ball mazes, jigsaw puzzles and more!We bring a mix of all three – and multiples! You can work on a puzzle as a team or as individuals; depending on your times we can sometimes do several!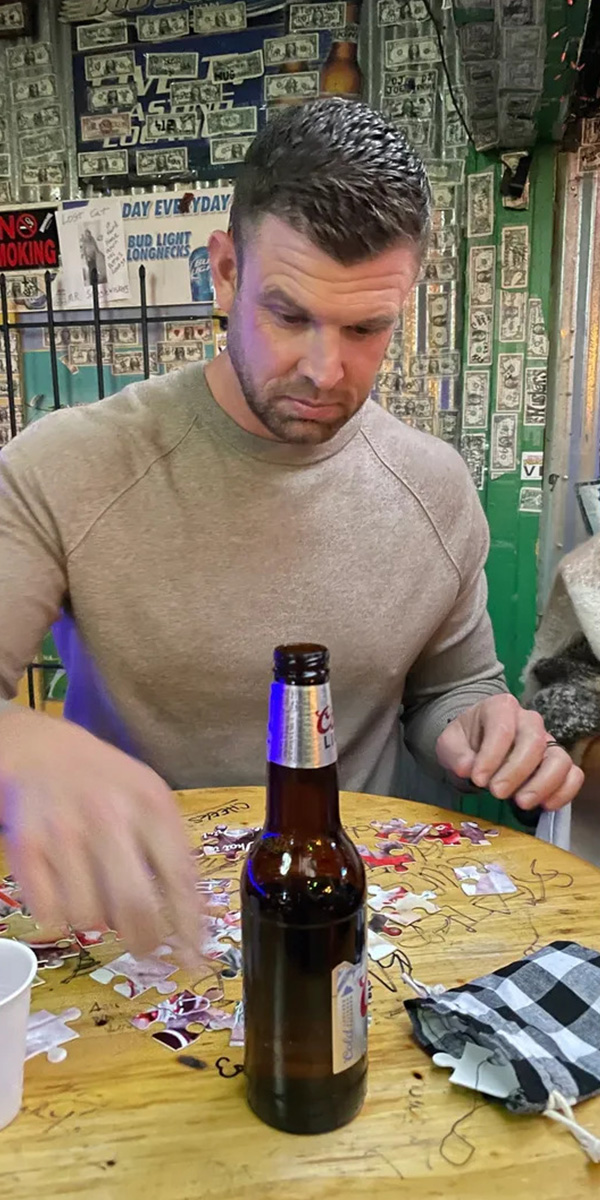 TWO LOCATIONS TO "THINK TO DRINK!"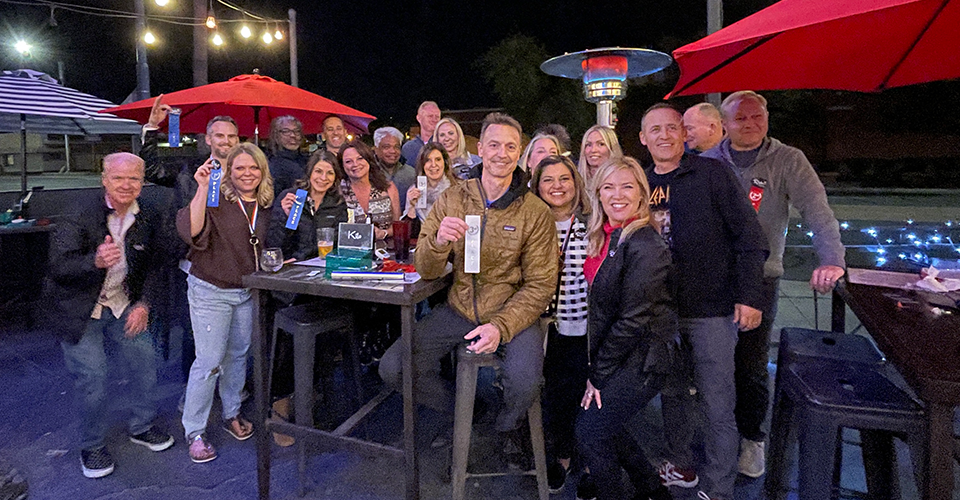 Offered Friday – Sunday
at 11am, Noon, 1pm, 2pm, 3pm & 4pm
Available Monday – Thursday by appointment only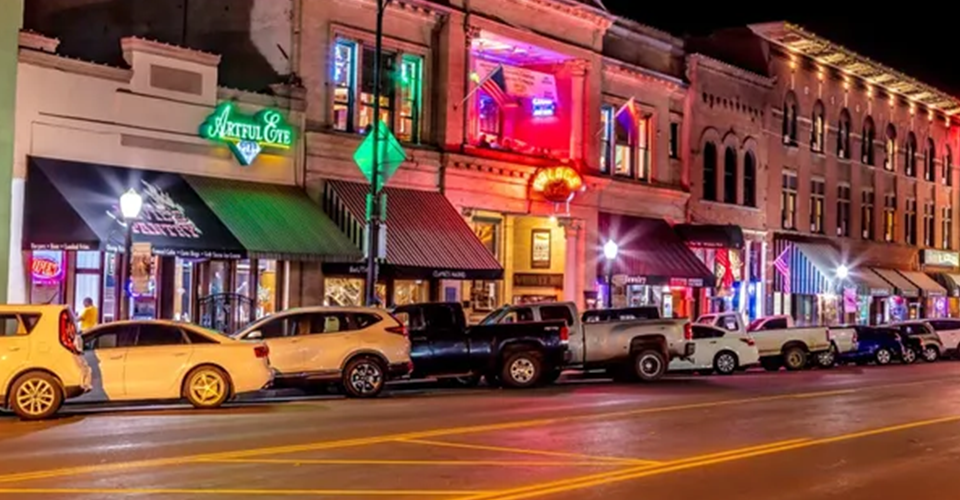 Offered daily
4pm and 5pm & on weekends at Noon, 1pm, 2pm & 3pm
Available earlier on Mon – Thur by appointment only
2 CITIES, OVER 30+ DRINKING ESTABLISHMENTS!
Rockbar

Goldwater Brewing

Porter's Western Saloon

BS West

Scapegoat Beer & Wine

Giligan's

Boondocks

Craft 64

Pattie's 1st Avenue Lounge

Rack

Taj Mahal

Philly Social Club

Coach House

Bevvy

Kazimierz Whiskey & Wine

Merkin Vineyards

Outrider at Canopy

Frasher's Tavern
Lazy G Brewhouse

Matt's Saloon

The Palace

1881 Spirits

Prescott Public House

Superstition Meadery

The PUB

Back Alley Wine Bar

Ad Astra Brewing

The Glass Bar @ Hassayampa Inn

Montezuma's Tavern

Founding Fathers City Taproom

County Seat

La Planchada

JJ's Saloon

The Point

Jersey Lilly's
Riders will be visiting several different areas (districts) of Old Town Scottsdale or Historic Downtown Prescott. They will be presented with a different type of puzzle at each location. Locations are chosen in various ways – sometimes through a song choice or other times by driver curation (we avoid really crowded locations!) Once at the chosen bar, riders will be able to purchase a beverage of their choice to enjoy while solving their puzzle. The goal? To solve the puzzle and earn bragging rights for winning that puzzle round. At the end of 25- 30 minutes the next bar is revealed in a new district, and they are off again. Your final destination has been chosen to be within walking distance of your vehicle so sit back and enjoy your final destination long after your ride has ended! There are up to a half dozen bars in each district, and up to four districts to visit…so every ride will be unique!
If it is raining at the time your ride starts:
• In Prescott, we will give it 15 minutes to stop in the summer; if it doesn't, we will reschedule your ride.
• In Scottsdale, we run rain or shine in the summer. Come prepared!
• In the Winter, we reschedule your ride in both locations. It's miserable to be cold & wet!
If it begins to rain during your ride in the summer:
• In Prescott, we will stop the clock and seek safety in the local parking garage. Most summer storms are short, and we will restart the game when it stops!
• In Scottsdale, we break out the emergency ponchos! These are very thin but will keep the worst off if we have an unexpected shower.
SNOW: If there is snow on the ground, and roads are dry, we will proceed as normal.
If there is snow and wet roads, we will reschedule your ride.
HEAT: If it is over 110 degrees at the time of your ride, we reserve the right to postpone your ride.
Puzzle Rides does not offer direct refunds on any ride, but will issue a store credit good for one year should you have to cancel at any time or if weather causes us to postpone due to safety reasons. Pub Crawls canceled or rescheduled less than 7 days before their booking time will be subject to a $50 rescheduling fee. We plan and staff our rides so our customers have an amazing experience. We appreciate your cooperation and understanding of this policy. If you would like to purchase Enhanced Refund Protection for an additional cost at check out, please read all of our terms and conditions BEFORE purchasing HERE.
We do not provide you with alcohol.  All alcohol must be purchased and consumed at the bar where it was purchased.  Absolutely no alcohol allowed on the golf cart. 
Likewise, do not bring alcohol with you.  Many bars are cash-only, so make sure to have cash on had. We request that only one person use a card to pay for everyone's purchases to save time.
Yourself, an ID (you must be 21 years old and bars do check ID's!) and your party attire! We supply everything else. You are also welcome to bring decorations for the cart.
In Scottsdale, we pick you up at RACK Scottsdale. In Prescott, at the local parking garages. We leave you at your last location to enjoy it without a time limit; it's always within a block's walk from your vehicle. We encourage you to have a designated driver, or use a ride share service to get home safely!
A trained Puzzlemaster; music, silliness, fun and PUZZLES! We do thinking, visual and physical puzzles! Think of your puzzlemaster as your new favorite sober drinking buddy!
Price does not include drinks or driver gratuity. Our drivers work hard to make your experience one to remember and greatly appreciate tips. 10-20% is customary for private tours.
Of course! But our Puzzlemasters will also take photos of the groups during the tour and will airdrop them to everybody post-tour !
INSIDE CLASSIC ROCK AT BOONDOCKS
Good Morning Arizona, CBS5 Phoenix
LET'S TAKE YOU ON A PUZZLE RIDE PUB CRAWL
FOX 10 Phoenix