The Perfect Prescott Adventure!
Our Prescott rides are fantastic fun! You'll tour historic downtown Prescott, trailing 1880's robbers, walking the plank like pirates, getting lost in time with our resident time traveler, trying to stop a mad scientist or even hunting for real ghosts!
Way back in the day, bank robbers grabbed the loot and hid it to claim in the future. Can you find where they hid the loot? In Prescott, you're following the trail of 1880's bank robbers as you criss-cross through the historic downtown. Will you recover the dough?
Difficulty Level: Moderate

Time: 75 Minutes
Want to puzzle through the most haunted spots in Prescott? This ride based on local ghostly tales will send tingles down your spine as you learn of real-life encounters with Prescott's otherworldly residents!
Difficulty Level: Moderate

Time: 75 Minutes
A mad scientist is threatening to unleash a powerful weapon: a mind control gas so everyone can think like them! This escape is no mere tourist attraction, when your driver may be a mad scientist in question!
Difficulty Level: Moderate

Time: 75 Minutes
PIRATE's TREASURE ADVENTURE
Don your pirate garb and prepare to swashbuckle your way through downtown! While we initially designed this for kids – it's super fun for adults, and has become our most popular ride! Plan to wear a pirate hat and work on your ARGGGGHHH!
Difficulty Level: Moderate

Time: 75 Minutes
A local Prescott historian is lost in the past; can you open the time portal to help her escape? Her sister is your guide as you race through the past to save her!
Difficulty Level: Moderately Hard

Time: 75 Minutes
Can't decide on which ride? Do two rides back-to-back! This double adventure takes about 3 hours, and you SAVE when booked together! Available on all regular rides before 5pm.
Difficulty Level: Moderately Hard

Time: 75 Minutes Each Ride

You Asked For a Drinking Ride… You got It!
Check Out Our Pub Crawls!
On all rides, children under the age of 16  MUST be accompanied by a paid participating parent or guardian.
NO CHILDREN UNDER THE AGE OF 5 ARE ALLOWED TO RIDE ON THE CARTS PER ARIZONA CAR SEAT LAW.
Staying at a local hotel? We can pick you up/drop you off before and after your ride! PLEASE make sure we service your hotel before booking!
$30 for one cart (up to 5 people)
$60 for two carts (up to 10 people)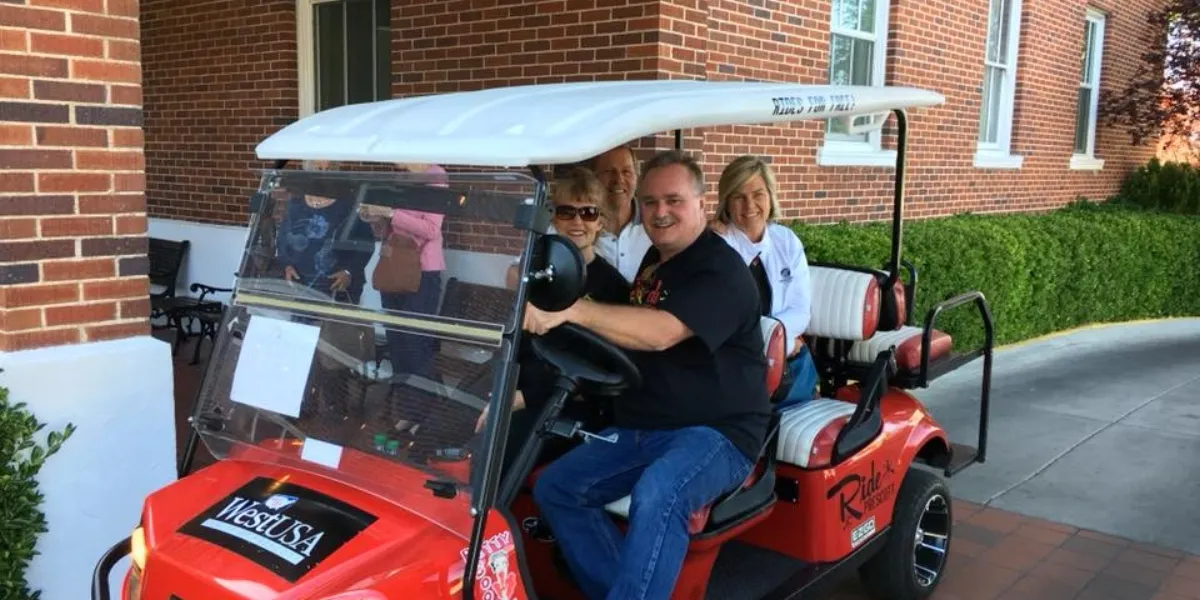 PLEASE bring a bottle of water with you!!! We will work with you to stay in the shade, but reserve the right to postpone your ride if it is over 110° at the time of your ride. Bookings are only offered at 8am, 9am, 10am, 11am, plus 7pm, 8pm and 9pm are offered for all rides May 31st – Sep 5th to avoid the heat!
ALL RIDES MUST BE BOOKED ONE DAY IN ADVANCE
Up to $50 surcharge for same-day bookings
If you would like to purchase Enhanced Refund Protection for an additional cost at check out, please read all of our terms and conditions BEFORE purchasing HERE.