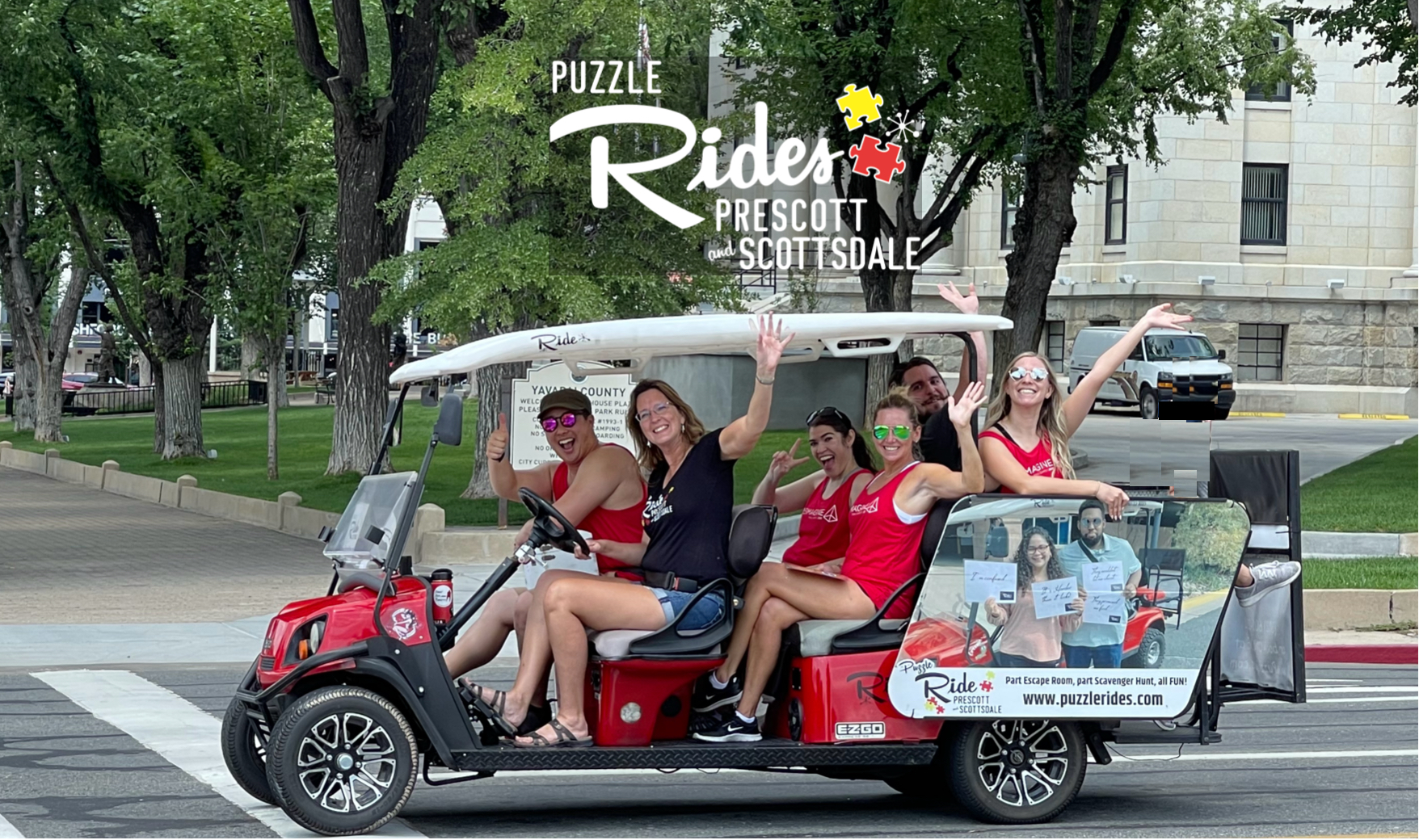 Experience a thrilling adventure with Puzzle Rides, an exciting game that challenges players to work together and solve puzzles while traveling on a golf cart! As players chart their own course, they must utilize clues and resources found along the way in order to succeed before time runs out.

Similar to an escape room, Puzzle Rides requires strategic thinking and collaboration to complete the journey. However, unlike escape rooms, players get to enjoy the fresh air and visit local historical sites and public art while they solve each challenge.

Curious to learn how to play? Check out our video to see Puzzle Rides in action!
EXPERIENCE UNFORGETTABLE MOMENTS AND EXCITEMENT THAT YOUR GROUP WILL TALK ABOUT FOR DAYS!
Looking for a unique outdoor adventure that's fun for everyone? Look no further than Puzzle Rides! Unlike tours where you sit and listen, Puzzle Rides lets you be the star of the show. Our puzzles include classics such as jigsaw puzzles and crosswords, other clues we've lifted from lesson plans of 5th grade teachers. Combined with nostalgic technology and the occasional toy from decades past, we create an experience that will make you feel like a kid again – no matter what your age! Whether you're looking for a fun outing with the family, a day out with friends, or a team building activity for coworkers, Puzzle Rides offers a fun and exciting experience on a golf cart. Get ready to put your thinking caps on and embark on an adventure you won't forget!
Please note that children under the age of 5 are NOT allowed to participate, due to Arizona child car seat laws.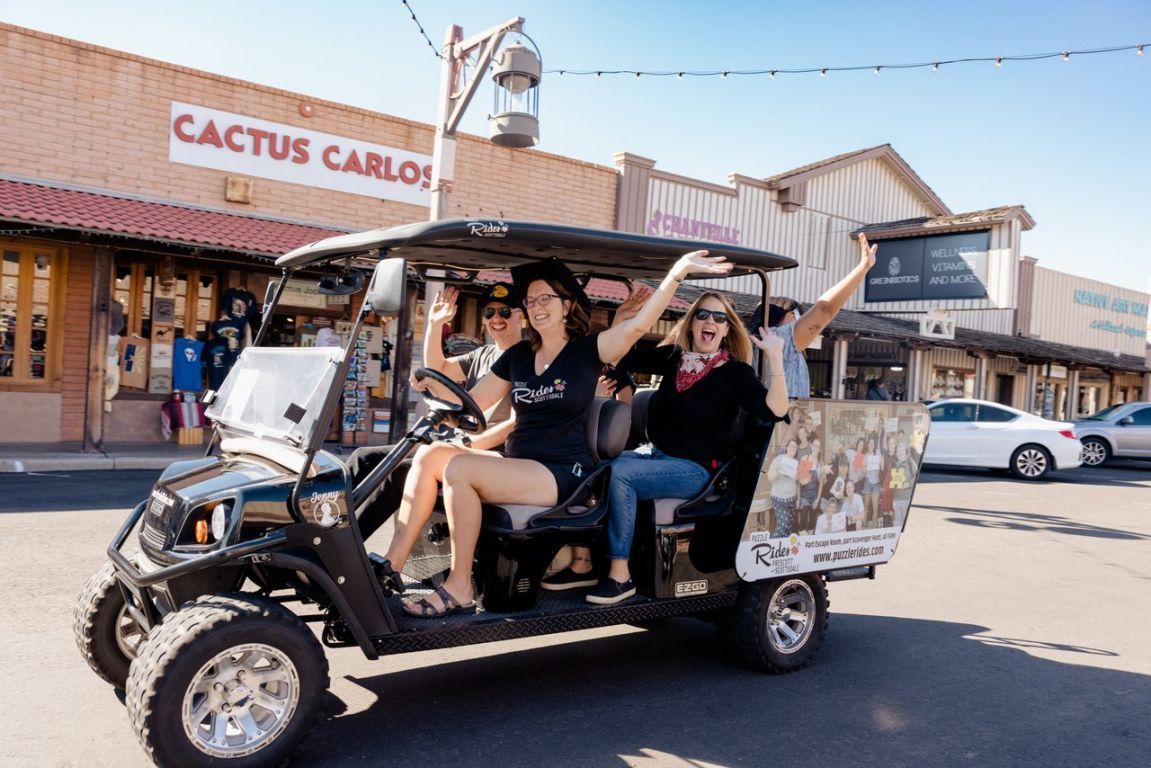 The hottest thing to do in Scottsdale? Puzzle Rides! We're based in Old Town Scottsdale, and run even when the mercury is soaring! No mere tourist attraction, you choose the route of your adventure – something no tours do!
Puzzle Rides is The Best Thing to Do in Prescott! Our Puzzle Rides are located in historic downtown Prescott and reveal the hidden secrets of this Mountain Town. Not just a tourist destination, its an adventure!
You Asked For A 21 and Older Ride;
Check out our Pub Crawls!
PUZZLE RUCKUS TEAM BUILDING
No matter how big (or small) your team is, we have some of the most fun and unique team building experiences to be found! In addition to Puzzle Rides, we offer Puzzle Ruckus Team Building – Puzzling Events that we can bring directly to you or hold in a local bar/restaurant. We work with your preferences to bring you the BEST team building activity in the nation with our innovative immediate ROI with our After Action Report!
Created for groups of 15 to 100, Puzzle Relays MIX your group repeatedly – breaking up the office clicks that we all gravitate towards. Our puzzles are designed to highlight what's working and what's NOT working on your team, and you have the option to find out all about your group in our After Action Report. Available in Scottsdale, Prescott, AND the Midwestern states of Michigan, Indiana, and Ohio and with the golf cart option in Scottsdale and Prescott.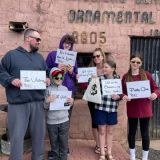 Nicole Trela
We had a blast! Even the kids loved it and are begging to go back!


Amy C
This activity far surpassed our expectations!! Shawna was amazing, entertaining and funny!! Didn't let us give up and we LOVED every minute of our scavenger hunt/ escape room/ zoom around town in a golf cart!!
Thank you for an enjoyable evening!! We will return to try the Haunted ride in October!!


Shana Lujan
This is a MUST do!! So much fun and a great outdoor activity. Highly, highly recommend! Perfect for all ages and they have different themes. I can't wait to do it again!


Jewels Newland
OMG, one of a kind experience. I highly recommended this to anyone looking for something new and fun to do with a group of people! Fantastic!

On all rides, children under the age of 16
MUST be accompanied by
a paid participating parent or guardian.
NO CHILDREN UNDER THE AGE OF 5
ARE ALLOWED TO RIDE ON THE CARTS
PER ARIZONA CAR SEAT LAWS.