GROUP ACTIVITIES & TEAM BUILDING IN SCOTTSDALE, AZ
No matter how big (or small) your team is, we offer some of the most fun and unique team building experiences in Scottsdale, AZ! Our team building activities focus on solving puzzles in a variety of ways – pick the team bonding activity best suited to your group!
PuzzlE Relays for 12-100 People
As Seen on The List TV Show!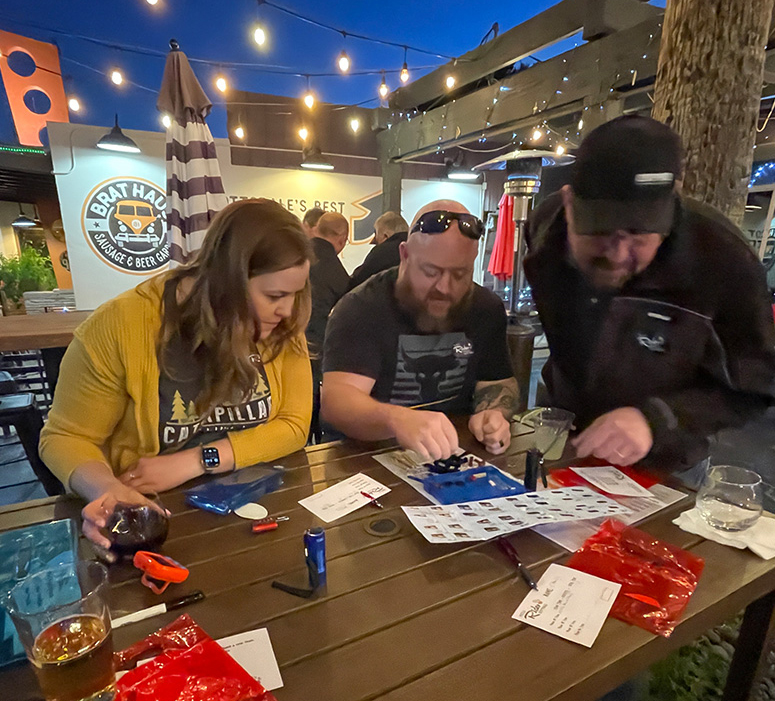 Our Puzzle Relays were featured on The List TV Show!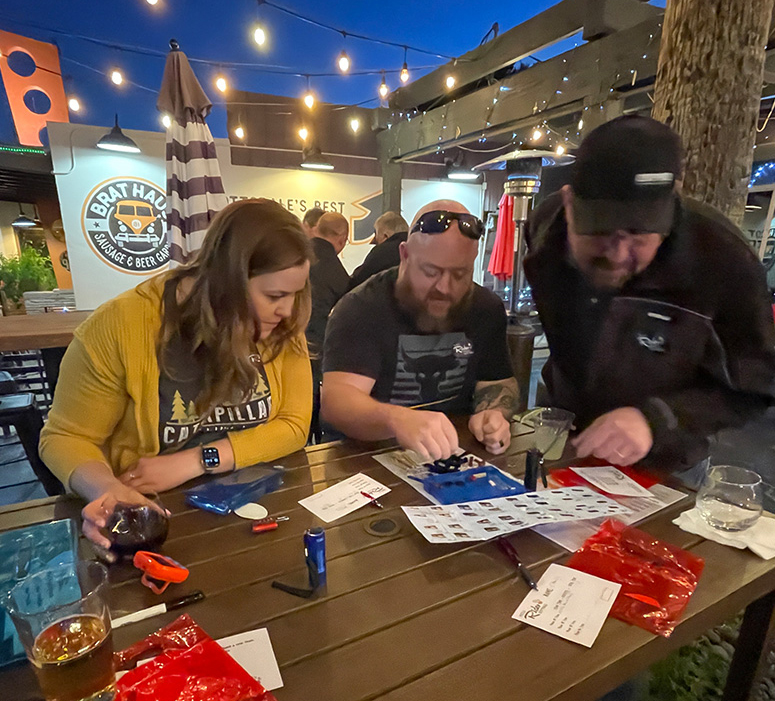 Based on our very popular pub crawl puzzles, we meet at a local bar/restaurant for a tournament of champions! Your group is split into teams of 5 or less; each team must solve a group of puzzles as quickly as possible, some which also involve leaving the location via golf cart with our Puzzlemaster drivers at the helm. Team times are recorded as puzzles are completed – but we mix up the teams every round to make things even more exciting! At the end of the final round, one team will win overall, and the top three teams are honored.
Participants will add up their individual total time – and the top three individuals are also presented with awards (because they brought their best to every team!) When all is said and done, you have the option of our Puzzlemasters (who are former sales trainers) sit down with company stakeholders and share our analysis of your team with you.
We identify the company culture, how management is perceived, who are superstars in the making and (occasionally!) if you have a bad apple. This analysis is often the favorite part!
A visit to Old Town Scottsdale not in your plans? We can bring the Puzzle Relay to you! Our no-cart option finds teams competing for clues instead of riding for clues, and can be done at your location.
Difficulty Level: Moderate

Activity Level: Leisure/Active

Time: 2.5 hours
Call for pricing and details
Advanced notice is required to book any Puzzle Relay. Please note that food/beverages/gratuity are NOT included in the price and only one form of payment for a tab is allowed at the event.
COPPER CANYON CAPER for 5-25
A locked box was found in the basement of a local museum, purportedly containing the lost treasure of Copper Canyon! Would you like to engage in this team building activity in Scottsdale, AZ and reveal the treasure?
This shotgun-style start divides your group into teams of five or less; while the start is together, you'll quickly head to different locations! All teams will need to solve all five locations before racing to the final location – where the treasure will be revealed! (and YES, if you have 5 or less you can still do this ride! Just one cart for all of you 🙂
Difficulty Level: Moderately Hard

Time: 90 minutes
Call for pricing and details
PUZZLING PUB CRAWLS FOR 2-15
Ready for fun? Take your team on a Puzzling Pub Crawl and experience the most unique team building in Scottsdale, AZ! We visit three local bars, with 35 minute stops where you have to "think to drink!" by figuring out the "drink of the bar" by solving our puzzles.
Our Pub Crawls are all "choose your own adventure" style – you'll pick your route based on your preferences in music, the holidays and more!
Difficulty Level: Easy

Activity Level: Leisure

Time: 2.5 hours
Call for pricing and details
WHY PUZZLE RIDES for Team Building Activities in Scottsdale for Boosting your Company's Performance?
Looking for ways to improve your team's collaboration, communication, and morale? Puzzle Rides offers fun and engaging team building activities that can help your employees develop new skills and strengthen their relationships while having a blast.
Our Puzzle Relays, Puzzling Pub Crawls and Puzzle Ride adventure hunts are designed to appeal to a wide range of interests and abilities, from creative problem solving to physical challenges. Depending on your goals and preferences, we can customize our activities to fit your team's size, time frame, and theme.
Why should you invest in team building for your company? Here are just a few reasons:
– Better communication: When team members get to know each other outside of work, they are more likely to communicate effectively and respectfully in the workplace. They can also learn how to listen to each other, give feedback, and resolve conflicts constructively.
– Increased trust and empathy: When team members work together to overcome challenges, they build trust and empathy, which can lead to more effective collaboration and cooperation. They also learn how to appreciate each other's strengths and weaknesses, and how to leverage them for the team's benefit.
– Improved morale and motivation: When team members feel connected, supported, and valued, they are more likely to be engaged, productive, and loyal to the company. Team building activities can provide a fun and rewarding break from routine work, and show that the company cares about their well-being.
– Enhanced creativity and innovation: When team members are exposed to new perspectives, experiences, and skills, they can spark their creativity and innovation. Team building activities can challenge them to think outside the box, experiment with new ideas, and take risks in a safe environment.
– Greater sense of purpose and belonging: When team members share a common goal or vision, they can feel a sense of purpose and belonging that goes beyond individual interests. Team building activities can align them with the company's mission and values, and inspire them to make a positive impact on their community and the world.
At PuzzleRides, we understand the importance of team building for companies of all sizes and industries. That's why we offer flexible, affordable, and high-quality activities that deliver results. Contact us today to learn more about our team building options in Scottsdale and beyond. Let's puzzle your way to success!
Call to discuss the best fit for YOUR team!
PLEASE bring a bottle of water with you!!! We will work with you to stay in the shade, but reserve the right to postpone your ride if it is over 110° at the time of your ride. Bookings are only offered at 8am, 9am, 10am, 11am, plus 7pm, 8pm and 9pm are offered for all rides May 31st – Sep 5th to avoid the heat!
If you would like to purchase Enhanced Refund Protection for an additional cost at check out, please read all of our terms and conditions BEFORE purchasing HERE.